Crown Preparation on anterior tooth Volume 1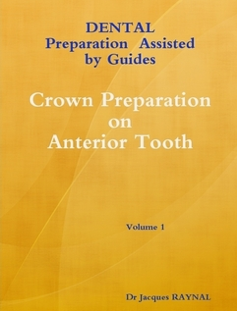 Crown Preparation on anterior tooth Volume 1
In stock: 5
Availability : Last stocks remaining - order yours now to avoid disappointment!
58,83€ inc. tax
The dental preparation is an essential link between the patient and the technique which will be used to produce their prosthesis. These may be classic prosthetic procedures or procedures using, partially or fully the CAD-CAM.
Whichever approach chosen by the clinician, the preparation must be fully legible and understandable for our prosthetics representative.
PAG or Preparation Assisted by Guises are based on the combined use of special burs. The protocols that drive them are established ffrom the principle according to which the burs are not simply intended to ear away the tooth by abrasion but they are each at their level, real tools whose function is to satisfy the criteria necessary to produce our fixed prostheses.
The teeth reductions are controlled and even reproductible from one preparation to another. Once acquired, PAG protocols will significantly contribute in improving communication within practioner-laboratory technician or praticioner-CAD_CAM system partnerships.
Author : Dr Raynal Jacques
First edition Lulu.com 2011, 56 pages
ISBN : 978-1-4475-0558-7